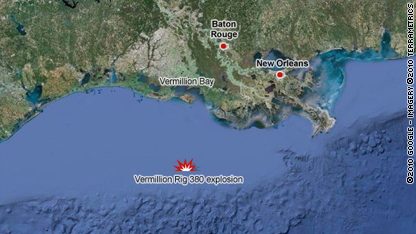 Oil platform explodes in Gulf, rescues under way – This Just In - CNN.com Blogs
:
"U.S. Coast Guard Petty Officer Bill Colclough tells CNN that 12 people from the production platform are in water immersion suits as they await rescue.

Colclough told CNN there are reports the production platform is still on fire.

'We don't know what caused the rig to catch on fire,' he told CNN, noting the incident is under investigation.

Asked about concerns regarding oil leaks or pollution, Colclough said 'there are reports the rig was not actively producing any product, so we don't know if there's any risk of pollution.'

The incident comes nearly five months after a separate explosion on a BP rig in the Gulf triggered oil leak disaster."
Washington Post updates
:
All 13 people on board the Vermilion Oil Rig 380 have been accounted for, and the one who was injured is being transported to a hospital, Coast Guard Petty Officer Bill Colclough said.
From "Diamonds Are Forever"
ORDER SUKI SERIES eBOOKS AND PAPERBACKS
Suki Series Tech
Order the paperback edition of Suki V: The Collection
Browse the series on Google: Suki I, Suki II, Suki III, Suki IV, Suki V
Fan Fiction: John and Suki: Vacation Fun
John and Suki's news and comment area, from a Libertarian perspective.
Copyright 1970 - 2010, SJE Enterprises, all rights reserved.