New at Reason: Steve Chapman on the Gay Marriage Debate - Hit & Run : Reason Magazine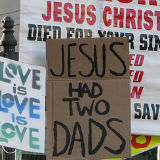 Why would the socially conservative National Organization for Marriage hold an anti-gay marriage rally in Madison, Wisconsin, where the group was sure of being badly outnumbered by motivated and well-organized critics? Maybe, writes Steve Chapman, because that's what the group wanted. The rally managed to make opponents of gay marriage look like a brave, embattled minority, even though they constitute 53 percent of the public and have gotten their way in all but a few states.
Suki Series Background
Suki Series Tech
Order the paperback edition of
Suki V: The Collection
Browse the series on Google:
Suki I
,
Suki II
,
Suki III
,
Suki IV
,
Suki V
Fan Fiction:
John and Suki: Vacation Fun
John and Suki's news and comment area, from a Libertarian perspective.
Copyright 2009, 2010, SJE Enterprises, all rights reserved.