First, Julian Assange gives Charlie Sheen and Mel Gibson a lesson in anti-Semitism: Deny, deny, deny -
British magazine: Assange says Jewish conspiracy trying to discredit WikiLeaks - Haaretz Daily Newspaper | Israel News
:
"British magazine Private Eye reported in its latest edition that WikiLeaks founder Julian Assange claimed a Jewish conspiracy was attempting to discredit the organization. Assange denied the report, accusing Private Eye editor Ian Hislop of manufacturing comments attributed to him.
Private Eye published a report saying that one of Assange's associates in Russia, Israel Shamir, was a Holocaust denier. In response, the magazine reported, the WikiLeaks founder claimed there was a campaign by Jewish journalists in Britain to discredit the organization.
'Hislop has distorted, invented or misremembered almost every significant claim and phrase," Assange said in a statement released by WikiLeaks on March 1, apparently referring to a February 16 telephone conversation between the two. "In particular, 'Jewish conspiracy' is completely false, in spirit and in word. It is serious and upsetting."
"We treasure our strong Jewish support and staff," Assange said in the statement, "just as we treasure the support from pan-Arab democracy activists and others who share our hope for a just world.'"
Jewish film maker Steven Spielberg has
purchased the movie rights to Assange's biography
. Back-in-the-day, Spielberg made a very convincing mechanical shark for the
Jaws
movies that may have been the inspiration for this
crazy rumor
.
Speaking of the
Jew hating
Charlie Sheen
, a judge in California ordered his sons removed from the "Sober Valley Ranch", after
Brooke Mueller
submitted a declaration in which she alleged Charlie said, "I will cut your head off, put it in a box and send it to your mom" If true, it sounds like things lots of anti-Semites say and do.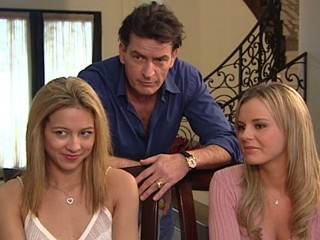 Charlie Sheen and his babysitters.
Charlie must have taken the Assange lessons to heart on the
Today Show today
.
Nothing new with Assange and Sheen's fellow traveler, Mel Gibson.
Update:
Hitler loving John Galliano is
suing a couple
for forwarding the notion he might be racist.
"I love Hitler, people like you would be dead. Your fathers, your forefathers would be gassed." - John Galliano
Sorry for the ad at the beginning. It is the only sharable video I could find.
Femdom Cave - Adult Literature for the Discerning Reader
Read Controlling Sarah free at Literotica.Com
We love you Julian, Charlie and Mel!
ORDER SUKI SERIES eBOOKS AND PAPERBACKS


Suki Series Tech
Order the paperback edition of Suki V: The Collection
Browse the series on Google: Suki I, Suki II, Suki III, Suki IV, Suki V
Fan Fiction: John and Suki: Vacation Fun
John and Suki's news and comment area, from a Libertarian perspective.
Copyright 1970 - 2011, SJE Enterprises, all rights reserved.