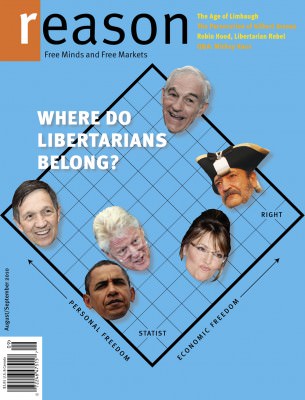 New at Reason: Read Our Complete August-September Issue! - Hit & Run : Reason Magazine
:
Our entire August-September issue is now available online. Don't miss Matt Welch on the death of neoliberalism, Jesse Walker on Rush Limbaugh, Katherine Mangu-Ward on teachers unions versus online education, and Michael C. Moynihan on Christopher Hitchens' new memoir, plus our complete Citings and Briefly Noted Sections, the Artifact, and much more.
Go make a comment on the blog before it hits the main page. You know you want to!
Suki Background
Suki Series Tech
Order the paperback edition of
Suki V: The Collection
Browse the series on Google:
Suki I
,
Suki II
,
Suki III
,
Suki IV
,
Suki V
Fan Fiction:
John and Suki: Vacation Fun
John and Suki's news and comment area, from a Libertarian perspective.
Copyright 2009, 2010, SJE Enterprises, all rights reserved.